About Us | Accountants Brierley Hill
Thomas Nock Martin Accountants Brierley Hill, can trace its roots all the way back to 1905. It was then founder Thomas Nock (1875-1940) decided to change his career path. He decided that work as a clerk in a local tube works wasn't what he wanted from life. Nock noticed that whilst the Black Country was the industrial heart of Britain, its financial services were largely under serviced. However, whilst it was easy to spot the gap in the market, on paper, he was rather under qualified. Nock realised that in order to succeed he needed a professional qualification. Therefore, rather late in life (30), he became articled to Arthur Mason of Dudley. He paid Mason the princely sum of fifty-two pounds and ten shillings for the privilege – a staggering £30k in today's money!
Once qualified Nock set up on his own practice. Looking after the bookkeeping and accountancy affairs of local chain makers, iron founders, brewers and galvanisers, and his practice quickly flourished. 
In 1939 Thomas Nock's nephew, Burt Nock (1913-1976), joined him as his partner and there is a continuing Nock family presence at the firm to this day.
The fact that Thomas Nock Martin has survived depressions, recessions and world wars simply proves that we are a team to trust.
A History of Success
Our long-standing history is an accolade to our success, which we are very proud of. That's why we work alongside the most successful, hardworking and ambitious people in business. People who have appointed a Thomas Nock Martin chartered accountant to work with them.
Why? Because they know that we will not only deal with their tax and accounting issues, but will be a trusted business partner. As well as someone they can count on to do more than the number crunching.
Find out more
To find out more about TNMCA and the services that we offer, get in touch with us today!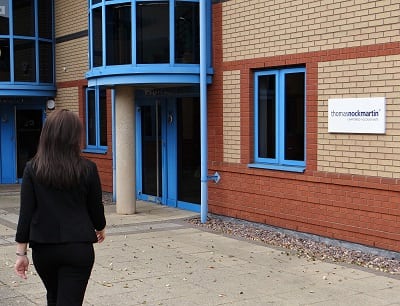 A Future of Success
The advent of the Thomas Nock Martin app gives us real-time access to your information. It leverages all of our accounting systems, software, tax calculators and content, budget data and everything you, as a client will need to manage your finances on a day-to-day basis – and places it at your fingertips, anytime, anywhere. It is the answer to the current digital challenge and connects us with you via smartphones and tablets 24/7. This enables us to give more accurate and timely advice, therefore allowing you to concentrate on driving your business forward.
At Thomas Nock Martin Accountants Brierley Hill we pride ourselves on our client relationships. We never lose sight of the premise that foundations built on trust will lead to prosperity and longevity.
Our philosophy is always to do our best to…
Provide professional, friendly and efficient service.

Go above and beyond expectations.

Listen to your needs carefully and act upon then accordingly.

Communicate with you in a clear and timely manner.
Agree fees upfront to avoid hidden charges

Build a relationship founded on honesty and trust.

Provide pro-active business advice.
Whether you need an integrated business strategy, access to corporate finance or specialist tax advice we are here to help you achieve your goals.
Please contact us if you would like any further advice, have any questions about our services, or would like a free consultation. We always love to see how we can help you.